First of its kind One-Stop COVID-19 "Triage and Sample Collection" Booth to Scale up COVID-19 RT-PCR tests in Bangladesh.
Press Release - Digital Healthcare Solutions (DH) - 04 June 2020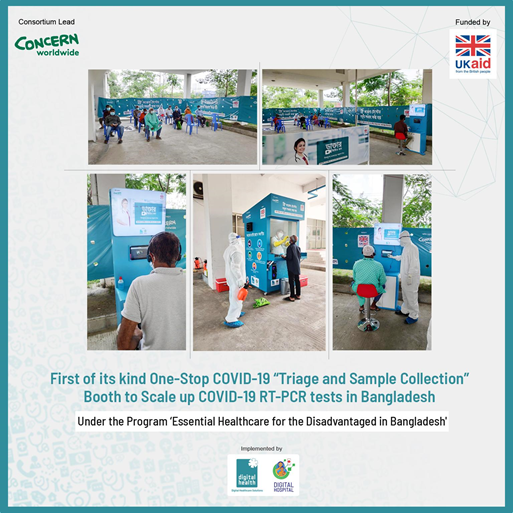 Digital Healthcare Solutions (DH), the Institute for Developing Science and Health Initiatives (ideSHi) and Mugda Medical College & Hospital (MuMCH) have collaborated to launch the first of the new digital booths, to help increase capacity in Bangladesh for COVID19 screening and testing. This is an important initiative under a multi-partner consortium, led by Concern Worldwide, which is implementing the Essential Healthcare for the Disadvantaged (EHD) in Bangladesh Programme, funded with UK aid from the UK government. The EHD program is being implemented under the guidance of Ministry of Health and Family Welfare, Government of Bangladesh.
As an innovative one-stop model for screening and sample collection (for the RT-PCR confirmatory COVID-19 test), the model will also provide lessons which could potentially help the programme expand the initiative in other parts of the country, including more rural areas where there is shortage of doctors and medical facilities.
Mr. Saber Hossain Chowdhury, Hon. Member of Parliament of Dhaka-9 and Chairman of Mugda General Hospital Management Committee will inaugurate the booth through an online video conference on June 4.
Mugda Medical College & Hospital is providing operational support, and ideSHi will provide full laboratory testing of the COVID19 samples. Digital Healthcare Solutions (DH) have followed design guidelines developed by the Institute of Architects Bangladesh (IAB), who have adapted successful designs from Korea and other countries for the Bangladesh context. The IAB designs aims to provide highest safety standards for patients, and protect sample collectors from risk of infection, through a completely airtight negative pressure system.
After a tele-consultation with a doctor, patients with strong symptoms of COVID-19 will proceed to the nearby DH Sample collection booth at Mugda Medical College & Hospital, and provide his/her sample. This service will be available daily, from Morning to Evening, except Friday, and the service is totally free of cost to the patient. Patients will get the test result and additional advice, within 48 hours. In order to ensure quality and safety, this booth will collect 150 samples daily, on a first come first serve basis.
At all times, norms of physical distancing will be followed.
Based on the success of the booth at MuMCH, Concern Worldwide will support Digital Healthcare Solutions (DH) and other members of the EHD Consortium scale up new one stop Triage and Sample Collection Booths in other parts of the Country, based on need, and guidance from Government of Bangladesh. Focus will be on helping disadvantage populations in hard to reach rural areas of Khulna and Barisal divisions.
UK AID is generously supporting the Concern Worldwide led EHD Programme, which will bring a range of essential healthcare services to the 2.5 million people in priority areas of Barishal and Khulna divisions. In addition to Triage and Sample Collection booths, DH will also support the EHD Consortium through free tele medicine advices from experienced MBBS doctors, check symptoms via aligned a2i and DGHS symptom checker, as well as free micro health insurance. In addition, DH has also launched an E-learning platform so that health workers, government officials and the locals can have instant access to COVID-19 related information to protect themselves.
Saber Hossain Chowdhury, Member of Parliament of Dhaka-9 and Chairman of Mugda General Hospital Management Committee said "This venture is a solid example of multi-sectoral engagement and partnership wherein the Government, development partners, private sector and foundations have all come together in responding to COVID19. This initiative also leverages innovation, technology and learning from other countries in ensuring an inclusive approach"
Dr. Firdausi Qadri, PhD,Lead ideSHi & Emeritus Scientist, icddr,b said that "ideSHi's mission and vision is to help Bangladesh with finding solutions to health problems in Bangladesh. At the time of this Covid-19 pandemic faced today by our country and people, we hold hands with Digital Health Care Solutions of Grameen Telecom Trust, Mugda Medical College and Hospital as well under the collaboration of our honorable MP, Mr Saber Chowdhury to accelerate Covid19 testing in the Triage and Testing Booth."
Commenting on the launch of the new Test and Triage booth, Sajid Rahman, CEO of DH, stated: "I am glad we can play our part in helping the Government of Bangladesh to continue to scale up COVID-19 testing. This innovation of bringing together testing with digital doctor triage can help protect essential test resources – and ensure only those who truly need a test on medical grounds will receive one".
Ar. Jalal Ahmed, President, Institute of Architects Bangladesh mentioned that Social and environmental commitments are essential parts of architects' work. Institute of Architects Bangladesh, as their professional body, has produced these open source design guidelines responding to the call of the hour. IAB thanks Digital Healthcare Solutions for its very timely initiative to implement the design.
Fahmida Shabnam, Human Development Team Leader of DFID Bangladesh, said that this initiative could potentially help Government of Bangladesh improve efficiency and effectiveness of sample collection, and rapidly scale up testing, particularly among disadvantaged populations in rural areas. She said that this is an important component of UK Government's commitment to support quality healthcare for all in Bangladesh. She thanks Digital Healthcare solution, Concern Worldwide and all other partners to join in this initiative.
Hasina Rahman, Country Director of Concern Worldwide said that this is an important part of the wider national level COVID-19 response that Concern Worldwide is implementing, in partnership with Government of Bangladesh and different local level partners. "Our response is totally aligned with the COVID-19 Bangladesh National Preparedness and Response Plan (NPRP)", and we are glad that we have been able to step up during this unprecedented crisis and support GoB" she noted.
Shumon Sengupta, Director of the EHD Consortium at Concern Worldwide congratulated DH, MuMCH and ideSHi for this potentially game changing initiative. "The EHD program is in the process of procuring high quality Personal Protective Equipment (PPE), Infection Prevention and Control (IPC) supplies and TR-PCR test kits for distribution through the public health system. The EHD program is also providing support in COVID-19 surveillance, and in mobile sample collection, transportation and testing in selected areas" he said.