Six New Businesses Launched at the 229th Social Business Design Lab
Press Release
২২৯শ সামাজিক ব্যবসা ডিজাইন ল্যাবে ৬টি নতুন ব্যবসা চালু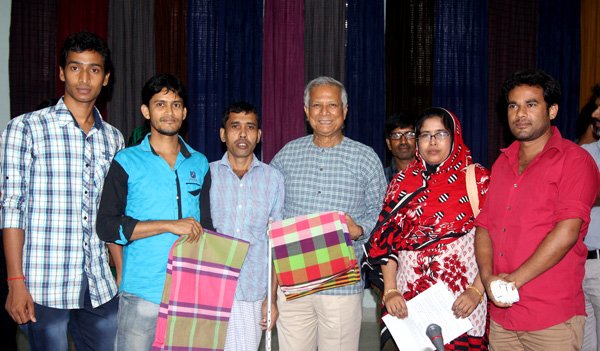 Investments into six social businesses were announced on Thursday 18th April 2016 at the 229th Social Business Design Lab. The young entrepreneurs, children of Grameen Bank borrowers are seen in the photo with Nobel Laureate Professor Muhammad Yunus including colorful handloom lungis made by entrepreneur Mizanoor.
The 229th Social Business Design Lab organized by Yunus Centre took place today on 18 April 2016 at Yunus Centre. Around 120 participants from around the world coming from diverse background attended the program, including a large number of international participants from USA, Malaysia, Belgium, Brazil and other countries. Notable participants were Mr Steve Hollingworth, President and CEO, Grameen Foundation based in USA and a seven-member delegation of myHarapan, a leading Malaysian national level youth organization of Malaysia. The team included three winners of a social business competition by the MyHarapan in Kuala Lumpur.
The Design Lab was chaired by Nobel Laureate Professor Muhammad Yunus who welcomed the audience and reported that since the labs began in January 2013, a total of 4654 projects have been approved for equity funding.
Six new Nobin Udyokta business plans were presented at today's Lab. All the entrepreneurs presented at the  Design Lab from Grameen Bank borrowers' families.  The first presentation was by Mizanoor Rahman  who makes colorful handloom lungis (sarong)  in Nawabgonj. The second presentation was made by  Md Masud whose business  uses waste cotton yarn from factory which he processes and recycles, to sells through his business Ashfraful Traders. A third entrepreneur Ms. Taslima sought investment for her stationery business - Bhai Bon Stationery - which she operates herself in Sree Rampur village of Naogaon, where it is rare to find women entrepreneurs running businesses of this kind. A fifth business was presented by a disabled entrepreneurs Md. Amzad who has a handloom to produce jamdani saris, and seeking investment to install a second loom. He began work as a day worker with a weaver and received food in exchange for his work. The investment would enable him to double the number of saris he can produce each month. There was a business plan presented by Mr Paran Sur to receive investment to scale up his "shankha" making business, handmade conch shell bangles traditionally worn by Hindu women after marriage. The final presentation was made by Shreekanto Kumar Gour  for expanding his Shusmita Medical Hall pharmacy business.
The business plans were presented by each of the young entrepreneurs including all details of project plan, marketing plan, and sustainability plan and then discussed in depth in groups. All six projects were approved for funding. The social business projects would be monitored through reports on Social Business Pedia. The projects are joint ventures with Grameen's social business funds.
Professor Yunus invited participants to join next Social Business Design Lab which will take place on May 30. 2016 as well as  to the Social Business Day, which will take place at the newly built Social Business Convention Centre at Zirabo outside of Dhaka on 28-29 July 2016.
Participants of  213th Social Business Design Lab are seen with Nobel Laureate Professor Muhammad Yunus on Monday 18th April 2016 at the Grameen Bank auditorium. 
New Entrepreneur Md. Mizanoor Rahman   holding up a traditional colorful handloom lungis (sarong) manufactured by him to Nobel Laureate Professor Muhammad Yunus at the 229th  Social Business Design Lab on Monday 18th April 2016.
Caption for image Four: New Entrepreneur Md. Amzad of Amzad Jamdani House is presenting his business plan in front of the audience at the 229th Social Business Design Lab on Monday 18th April 2016.